When Hayden Panettiere got engaged, it was "very sweet and simple and genuine" – and didn't include any elaborate surprises or grand gestures.
"It wasn't about being overwhelmed by fireworks or a mariachi band," the Nashville star, 24, reveals in the April/May issue of Brides.
"I think it's amazing when people do that, but I like that mine was simple and from the heart."
Panettiere announced her engagement to boxer Wladimir Klitschko, 37, in October.
Though she hasn't started planning her nuptials, Brides gave the star a head start, dressing her in wedding gowns by designers like Oscar de la Renta, Marchesa and Monique Lhuillier for the cover shoot.
The bride-to-be admitted she's nervous to actually wear a white dress on her big day, calling walking the red carpet and walking down the aisle "polar opposite" experiences.
"When eyes have been on me in the past, it's been because of an event, where people see me as a persona, as Hayden Panettiere the actress," she explained.
"For the aisle, you're the purest, most emotionally stripped down version of yourself, sharing this raw moment with the most important people in your life. It seems very overwhelming!"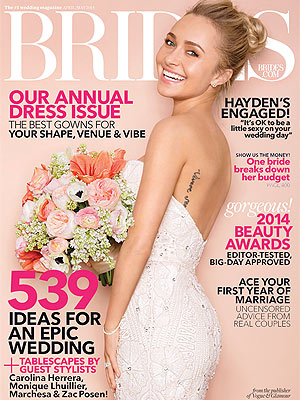 Hayden Panettiere
Brian Bowen Smith for BRIDES
The couple hasn't set a wedding date, and Klitschko's native Ukraine remains embroiled in political conflict (his brother Vitali is a major player in the protests). But Panettiere, who spoke out to Ukrainians in December, says she's proud of her future family's homeland.
"It's a beautiful country with beautiful people and a culture that I love," she told the magazine. "With his brother running for president and the mass demonstrations [against the government aligning with Russia], it's an incredible thing to be a part of."